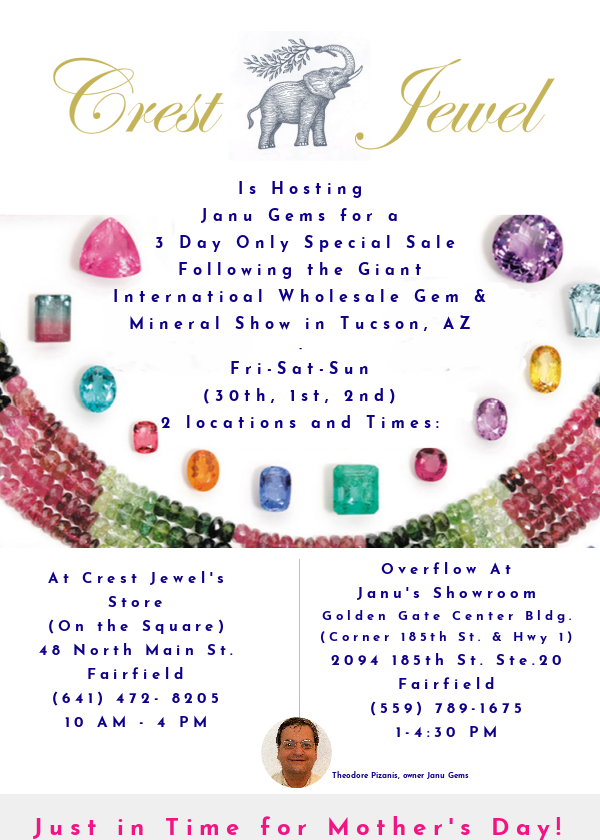 Janu Gems is bringing special finds from the big yearly International Gem and Mineral Show in Tucson AZ for a Special 3 Day Sale April 30-May 2 with plenty of beads and stones to inspire one's creativity as well as ready made gemstone jewelry at every price point.

•Gems, beads, cabochons for every birthstone and every color of the rainbow

•Luminous moonstone beads, blue flash labradorite cabochons, round ruby and sapphire beads

•Pearl button earrings and assorted pearl necklaces starting at $20

•Special selections of emerald gemstones and beads

•Large pieces of selenite, plus bowls, beads, hearts, and eggs

•Gemstone boxes made from Lapis and Serpentine and Malachite

•Many gemstone jewelry styles – all price points

•Crystals and mineral specimens: Blue Aragonite from Greece, Quartz from Brazil and Himalayas, Amethyst from Africa as well as Turquoise and various crystals from USA

Crest Jewel
48 North Main Street (On the Square)
Fairfield, IA 52556

Look for our sign on the sidewalk
It means we're there!
If you are out of town call us and we can help you shop virtually with Facetime or by sending you photos and videos

(641) 472-8205
Tell your friends!!!