Janu Gems and Theodore Pizanis join us today, January 15th and tomorrow January 16th at Crest Jewel for a special wholesale event featuring a wide range of natural precious and semi-precious gemstones and beads, also fresh water pearls.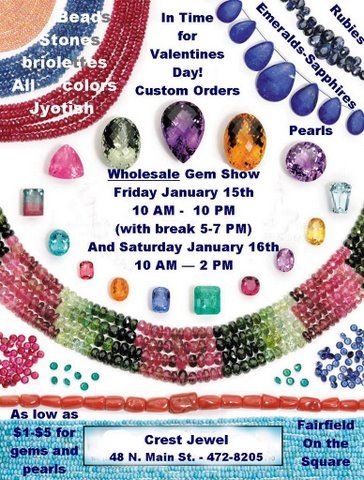 Hours are today, Friday, January 15th from 10 AM - 4:30 PM and again from 7 PM to 10PM. Tomorrow, Saturday, January 16th we open for the show again at 10 AM and close around 2 PM.
Crest Jewel is located at: 48 North Main Street in the center of the block opposite the gazebo. 641-472-8205
We will also begin scheduling classes to learn to transform raw materials into your own designs to fit your budget, taste and possibly Maharishi Jyotish recommendations. Theodore is a trained Maharishi Jyotish teacher. Please call 472-8205 for questions.
Remember Valentines Day this year. We have Gems and Pearls for under $10!!!